IN PHOTOS: Shimon Peres awards supermodel Naomi Campbell for activism
Supermodel Naomi Campgell with former president Shimon Peres at Int'l Women's Day event in Jaffa‏
(photo credit: RAFI DELOYA)
Former president and visiting top model salute women trailblazers in various fields.
International supermodel Naomi Campbell, on a first visit to Israel, was greeted on Tuesday at the Peres Center for Peace by Israel's ninth president, Shimon Peres, who presented her with the "Women Leading Change" award in recognition of her global endeavors for women and for needy communities.The award was made at an International Women's Day event hosted by Peres, who for years has been an uncompromising advocate for gender equality, and for women's education.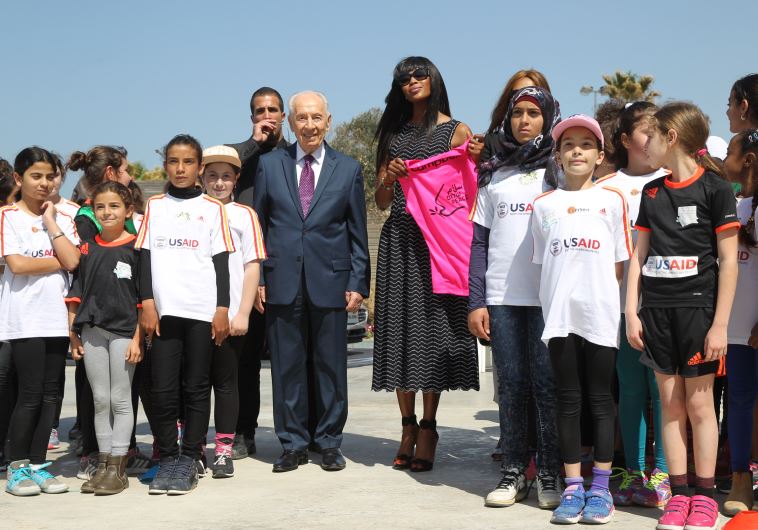 Nine women achievers mounted the stage and joined the conversation.Between them they have contributed to major transformations in education, society, business, and communications, not only through their own accomplishments, but in changes of attitude toward women in these fields.Peres declared that women are the future, noting that today women pilots are no longer a rarity and that much can be learned from them. He commended their strength, their courage and their precision.Both Peres and Campbell saluted women who have made significant breakthroughs in many fields, and in so doing have elevated the status of women. However they agreed much more remains to be done before women can truly be on a par with men.Campbell said that she had overcome many hurdles in her life and that she never raised her hands in defeat.Along the way she came across many wonderful women, many of whom helped her on her own path – especially her mother, who remains her role model, and who showed her that even a single mother can be a wonderful mother. She characterized her mother as "the anchor in my life."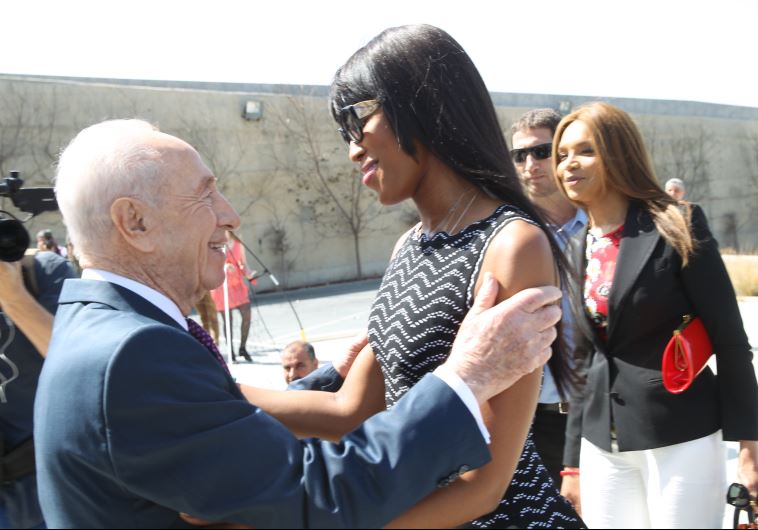 She also made the point that when someone does something they love to do, they give a 100 per cent of themselves to the enterprise."Leaders like you, Mr. Peres, and Nelson Mandela, are what make the world a better place," Campbell said. "You inspire me."The nine women who joined Peres and Campbell in conversation included businesswoman Ofra Strauss, educator and Israel Prize laureate Adina Bar Shalom, the first Druse female pilot Professor Anan Falah, Israeli political blogger and journalist Tal Schneider, Tal Granot-Goldstein, CEO of HOT, a leading activist in the Ethiopian Jewish community Inbar Bogla, Nadia Kinani, principal of Hand in Hand, a bilingual school for Jewish and Arab children, and Iris Beck-Codner, Group EVP of Corporate Marketing & Communication for Teva Pharmaceuticals.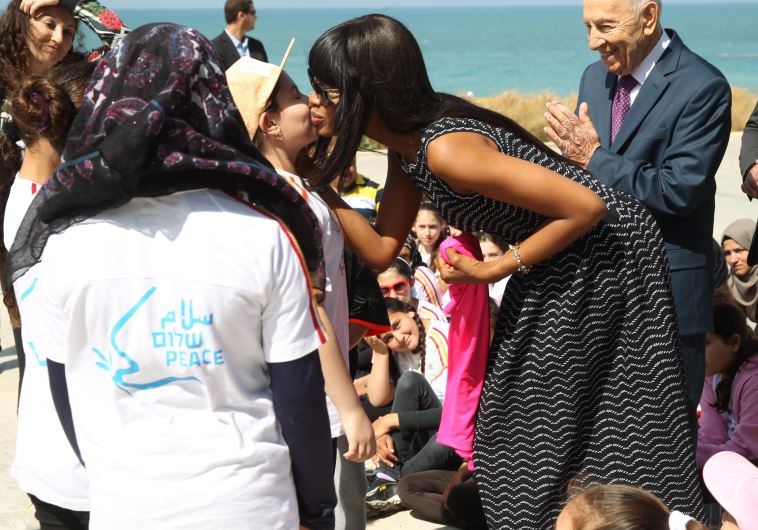 Each them received a citation, and Campbell, in addition her award, was given a personal tour of the Peace Center by Peres.Campbell visited Israel previously in 2012 to celebrate her birthday, visiting the Church of the Nativity in Bethlehem, as well as the Western Wall.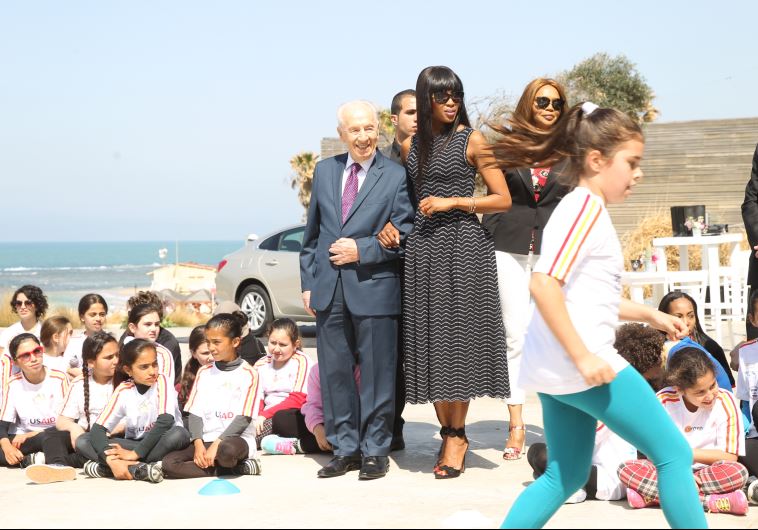 "There is no future in a world which discriminates against women," said Peres."A room without women is a room without a future."